California Gov. Gavin Newsom announced a statewide "Stay at Home" order in an attempt to prevent the further spread of COVID-19 in the state.
The move asks all Californians to remain at home unless they have essential reason for going out.
People should stay in their homes unless they need to leave for "essential" activities and work. The mandate went into effect on March 17 and will continue until at least April 7.
Here is some Fresno-specific information, as well: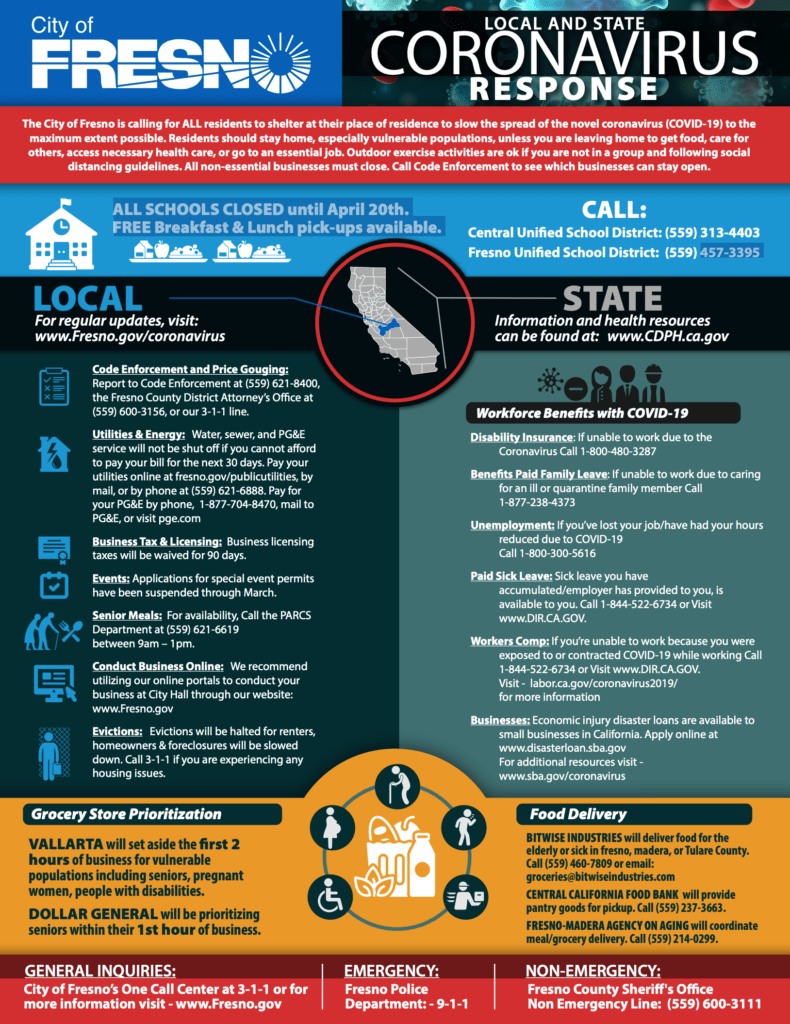 The City of Fresno issued a "Shelter in Place" order effective Thursday 3/19 through the end of the month.
"All individuals currently residing within the City are called to shelter at their place of residence. To the extent individuals are using shared or outdoor spaces, they must at all times as reasonably possible maintain social distancing of at least six feet from any other person when they are outside their residence."
"Essential businesses" will still be allowed to operate and residents will still be able to go to one of these places.
Some "essential businesses" include:
Health care operations and essential infrastructure
Grocery stores, certified farmers' markets, farm and produce stands, food banks, convenience stores, and other establishments selling canned food, dry goods, produce, fresh meat and poultry, etc.
Food cultivation, including farming, livestock, and fishing
Businesses providing food, shelter, and social services
Newspapers, television, radio, and other media services
Gas stations, auto supply, and auto repair
Banks and related financial institutions
Hardware stores
Plumbers, electricians, exterminators, and other providers of safety and sanitation for homes and businesses
Mailing and shipping services, including P.O. boxes
Educations institutions, provided they account for social distancing of at least six feet to the greatest extent possible
Laundromats, dry cleaners, and laundry service providers
Restaurants and other facilities preparing and serving food, but only for takeout and delivery
Businesses supplying products to people who work from home
Businesses supplying other essential businesses with support or supplies necessary to operate
Businesses that ship or deliver groceries, food, goods or services directly to homes
Airlines, taxis, and other private transportation providers for essential activities
Home-based care for seniors, adults, or children
Residential facilities and shelters for seniors, adults, and children
Professional services — like legal or accounting — when necessary to assist in compliance with legally mandated activities
Childcare facilities providing services for essential function employees, but they must do it in stable groups of 10 or fewer, children can't change from one group to another, if there's more than one group in a facility, they can't mix, and the same providers must stay with the same children